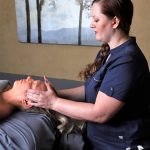 I encourage all of my clients to leave honest reviews for the services they receive. It helps future clients know what to expect when they visit Ginger Bloom!
Thank you,
78 reviews on
Sheila Marler
February 15, 2023
Very clean and professional setting. they are awesome! They listen to what you have to say. Whether it is what section of muscles are bothering you, if they are adopting to much pressure, or how you feel after the massage.
Donald Simmons
January 28, 2023
great experience- beneficial massage- enjoyed Diane- thank you
Jennifer Tate
January 26, 2023
Cannot recommend Ginger Bloom enough!! Carly Walker is the person to go to for the best facials in town - she is SO detailed oriented when it comes to my dermaplaning and always makes me feel so relaxed! I always feel SO MUCH better after she does my skincare! HIGHLY RECOMMEND!
Allyssa Zamora
January 13, 2023
Therapists are very professional, listened to everything we requested or asked for. Our experience was great!
Dianna Cooley
January 12, 2023
I receive a 60 minute massage and it was amazing. They are very welcoming, and it is a relaxing atmosphere. I would definitely recommend them.
Crystal Comer
January 4, 2023
Jen Hoover is amazing! The room is always clean and comfortable. She is consistent to ask if I am having issues or need focus anywhere particular. She is also open to talk or content to allow the room to just be quiet which I appreciate so much.
Sarah Brown
November 6, 2022
Jen is truly amazing! She listens to all your needs and helps stretch your muscles during the massage. She is the only one I will go to!!